Submitted by Anonymous on Tue, 08/14/2012 - 07:51
Posted in
Overall Feeling:
Hybrid takes your typical third person shooter, turns it on its head, adds a jetpack and says go at. While it certainly carries a unique and refreshing twist on the genre, Hybrid's fast pace gameplay is not for everyone. Not to mention the lack of single player... Sup with dat? If you're a run and gun shooter fan, this game is for you.
The Pros:
- Cover to cover warfare provides a unqiue flare to the third person genre
- The multiplayer map interface awards players with bonus experience
- Delivers all the basic game modes a multiplayer game should
- 3 on 3 action keeps the intensity on high
The Cons:
- Lobby finder takes forever to locate a game
- No story mode
- Fast pace gameplay is not for everyone
Hybrid is some crazy stuff... and after playing it sporadically over the past week I'm still trying to figure out if that's a good or bad thing.
5th Cell, the team behind the awesome, if you think it, you can make it, Scribblenauts, took the idea of a third person shooter and changed it as we know it. Is it ground breaking? Meh. Is it unique? Hell yeah!
I'm just going to start with one of the things that bothers me the most, the lack of story. I know it's silly, and you can call me old fashion, but there's something strange about a game not having a story mode. I guess I shouldn't say there's "no" story, as there is a under lying goal to the multiplayer. The concept is rather simple, humans versus aliens on a futuristic earth in a fight over our most precious resource, Dark Matter. Apparently, we're taking a page out of Futurama... where's Nibbler when you need him. Essentially when you win a match your faction gains Dark Matter and at the end of the multiplayer season, a winning team will be decided. This is actually one of the greatest features of Hybrid and perhaps something that other developers should look at incorporating in the future.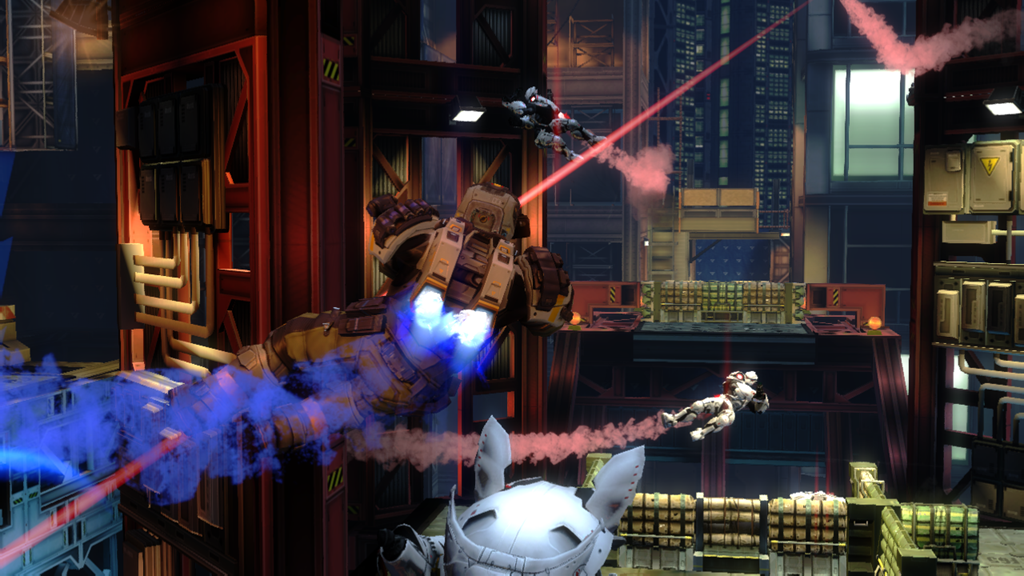 Hybrid's gameplay is fast, fierce and at times fabulous. Equipped with a jet pack, you fly from cover to cover as you move across the map. This is actually the only way of getting around. It's in this feature that will sell the game or turn people off. If you love a run and gun type of shooter this is your game, but those who are Call of Duty no-lifers than I can't envision this being for you. When I first started playing Hybrid I was all like this "this game is cray cray!", but now I'm beginning to have fun. That is until I get my ass handed to me. -Sigh-
It's worth mentioning that the 3v3 gameplay keeps you on your toes. In fact, this might be more team friendly than Battlefield is. If you're trying to lone wolf this game, good luck to you. You're either incredibly good or incredibly stupid.
One of the biggest down sides to this game is the lobby finder. I understand a lot of it has to do with the population of the game, but when I have to wait roughly five minute to play each round... it's a little much. This may very well be the downside to 3v3 matches.
Overall Hybrid is refreshing, challenging and fun. While it may not be for every shooter fan out there, it possesses a lot of great things the genre was missing. And for 1200 Microsoft points its worth checking out.